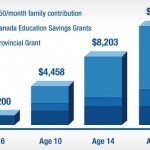 For all parents saving for a child's education is a challenge. For low income parents the challenge can seem completely out of reach. There is some hope for those who can save even a small amount, $100, $200, $500 a year.
In 2014, the Government of British Columbia announced a new grant for families who invest in their child's post-secondary education through an RESP. The one-time grant of $1,200 is available to any B.C. resident child who turns six years old.
Here are some of the details of the new grant:
Starting this year, families with eligible children who open or already have an RESP will receive a confirmation letter stating the B.C. government will deposit $1,200 into their RESP. Parents will not be required to match or make additional contributions to their RESP to receive this grant.
**The basic criteria to apply for the grant will be:
**The child must be born on or after January 1, 2007.
**The child must have an RESP in place.
**The child must be a resident of B.C. when the grant application is made.
**The child must be enrolled in an education program.
Parents/contributors will have a full year, between the child's sixth and seventh birthdays, to apply for the grant (families of B.C. – resident children born in 2007 will have until February 28, 2014 to establish an RESP). Parents are encouraged to set up an RESP as soon as possible — they don't need to wait until the child is six.
Anyone can make a deposit to the RESP, large or small, it all adds up to supporting our smart kids!
For more information on the BC Training and Education Savings Grant, including frequently asked questions, please visit: BC Government Link